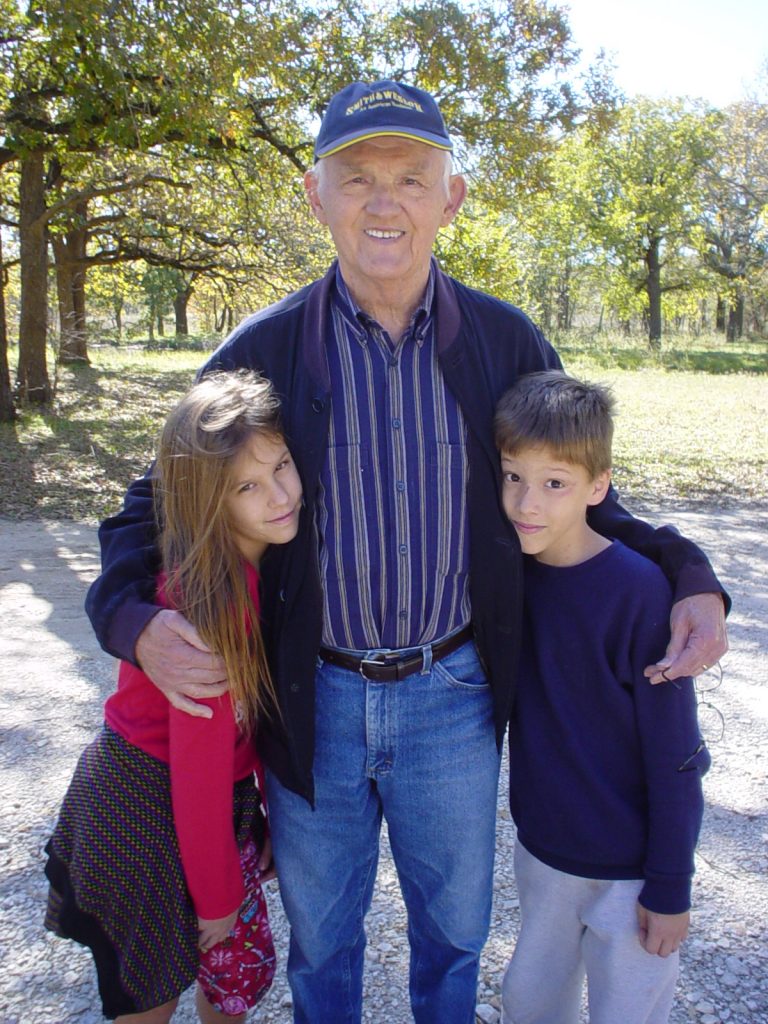 My Mom called me from Arizona last night to tell me that my Dad had died that afternoon as he was taking a nap. He was 94, and they had been married 59 years. Although he had been vigorous until a few months ago, and was clear in the head to the end, recently he had become frail. I was not surprised to hear the news, but it still hit me, and especially my Mom, hard. My parents had hoped in the next month or two to get up here to Iowa, where my wife and I and their only grandkids live (I'm an only child), but it will now only be Mom making the move. The picture above shows my Dad when he was 86, with grandkids Chloe and Will. Will's twin brother John is severely autistic, and it was hard on the spur of the moment to find a good photo of him with "Opa," as my Dad was known to the grandkids (I'll keep looking).
I only mentioned my Dad's passing to a handful of people, but it seems that word has been getting around among friends and colleagues, and people are being so very kind. I therefore wanted to put up something about him when people express their good wishes and perhaps want to know something of his life. As it is, it's not clear when we will be able to have a proper funeral service for him. (Update: A graveside service was held Friday, October 27th at Oakwood Cemetery in Pella, Iowa.) My parents had retired to Arizona back in 1992 (Green Valley, south of Tucson). Their move to Arizona was part of a "migration" of friends from the Chicago area who decided to retire down in Arizona, but most of those friends are now dead. Mom didn't want Dad buried in Tucson, nor at a veteran's cemetery in Phoenix, so his body is being moved to Iowa while my Mom tries to sort things out in Arizona before getting up here.
William Joseph Dembski (July 1, 1923 — October 17, 2017) had a long and good life. To say that he had a good life, however, is to understand that a good life is one that ends well, not necessarily one that starts out well. My Dad was the fourth child, in as many years, of Mary and Boleslav Dembski. My grandmother suffered severe post-partum depression after delivering my Dad. He was the unfavored child, and it didn't help that he, of the four siblings, most looked like his father, who was a philanderer, and left the family in 1930 to claim his inheritance in Poland.
With the Great Depression in full swing, my Dad was selling newspapers on the streets of Chicago at age 7. One time he got hit by a car and his body was tossed, unconscious, onto the grass. But he was all right (guardian angels?). A year later the hit-and-run driver identified himself, bought a newspaper, and gave my Dad a nickel tip for his inconvenience! (Or was it that he gave my Dad a nickel for a two-cent newspaper and had him keep the change? It was one or the other.) [Read more…] about Passing of My Father