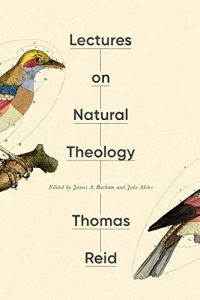 An excellent new edition of Thomas Reid's Lectures on Natural Theology has just been released, edited by my two good friends James Barham and Jake Akins. The editors draw valuable connections between Reid's lectures and the current understanding of intelligent design. These lectures are available on Amazon. Here is the introduction:
———————-
INTRODUCTION
Keith Lehrer begins his intellectual biography of Thomas Reid by asking "How great a philosopher is Reid?" In answer, Lehrer relates the following story concerning his doctoral supervisor Roderick Chisholm:
When Chisholm was a department chairperson at Brown [University] he received a telephone call from a man saying that he was a busy man but had time to read one serious book in philosophy and wanted to do so. He said that he was not interested in entertainment but simply wanted to read a book with a greater amount of truth than any alternative. Chisholm, wishing to reflect on the matter, said the man should call back the next day, and he would give him his advice. The next day Chidholm recommended that the caller study Reid. It was a sound judgement.[1]
The editors of this edition of Reid's Lectures on Natural Theology not only agree but also see in these lectures a timely contribution to ongoing philosophical discussions. [Read more…] about Thomas Reid Lectures on Natural Theology — New Edition