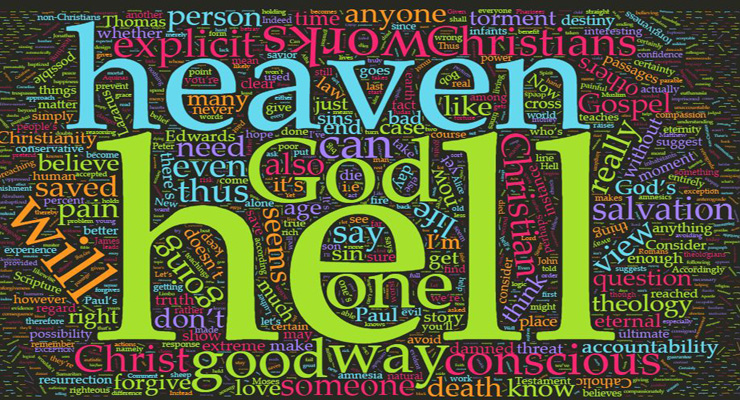 Note from author: The Bible's teaching on hell often gets twisted so that many people dismiss both hell and the Judeo-Christian faith. Indeed, it's common to see Christian college students struggle with the doctrine of hell almost as soon as they begin college and are confronted with non-Christian worldviews. Fundamentalism is often the problem here, promoting a doctrine of hell so extreme that no one deep down can believe it. This is not to say hell doesn't exist. It does. But hell is also grossly abused by religious people intent on asserting religious control. Overhyped views of hell bring unnecessary scorn and embarrassment on Christianity.
1 Consigning People to Heaven and Hell
Actress Jessica Alba, in a 2015 Vanity Fair article, describes the loss of her faith at age seventeen when she "fell crazy in love with a cross-dressing ballet dancer who had a baby and was bisexual. I was like, 'There's just no way he's going to hell!'" Alba, it seems, reasoned that Christianity consigns a lot of good people to hell, so Christianity must be false.
To Alba's rejection of Christianity, the conventional Christian response is, "No one is really good. We've all sinned. It's only by God's grace that we can be saved. Given our present sinful state, hell is our natural destination. It doesn't matter whether the cross-dressing ballet dancer is a really sweet guy. Without faith in Christ, he and all others are on their way to hell."
Was Alba familiar with this explanation of hell? Growing up as a "devout born-again Christian," she surely was. Did she previously accept this explanation? Probably so, since her cross-dressing friend confronted her with an impossible choice: either reject Christianity or think that her friend was on his way to hell?
But what does it even mean to say "someone is going to hell"? For years I've watched Christians and non-Christians discuss the topic of hell, and the one lesson I've drawn is that we are tempted to think we know far more about people's ultimate destinies than we actually do, and that includes confidently consigning people to hell, heaven, or none of the above. [Read more…] about The Paradoxes of Hell