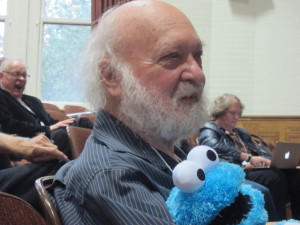 On October 26th, 2015, I received an email from a colleague of my former dissertation supervisor, Leo Kadanoff, informing me that Leo had died that morning. It's now several weeks since his passing, but I still would like to pay my respects to him here at this blog.
I came to know Leo as a math graduate student in 1987. It was an uncertain time in my mathematical education. I had finished my qualifying work and spent a semester doing research in probability at Cornell in the fall of 1986. Back at the University of Chicago at the start of 1987, I was looking for a dissertation problem with which to get my PhD and move on.
Patrick Billingsley, who was the main probabilist in the UofC math department at the time, was no longer at the top of his game, having, as he put it to me, "run out of steam," and then turned to acting as what appeared to be his primary interest (he was quite accomplished locally in the Chicago theater, and one can see him with small roles in various Hollywood films from the 1980s, notably THE BODYGUARD and SOMEWHERE IN TIME).
Given my interest in probability theory, I was therefore looking for someone at the University of Chicago to supplement my work with Patrick Billingsley, someone who was at the top of his game and used probability as an essential component in a cutting-edge research program. That, as it turned out, proved to be Leo Kadanoff. When I defended my dissertation in the spring of 1988, Patrick Billingsley and Leo Kadanoff were joint dissertation supervisors. [Read more…] about Remembering Leo Kadanoff