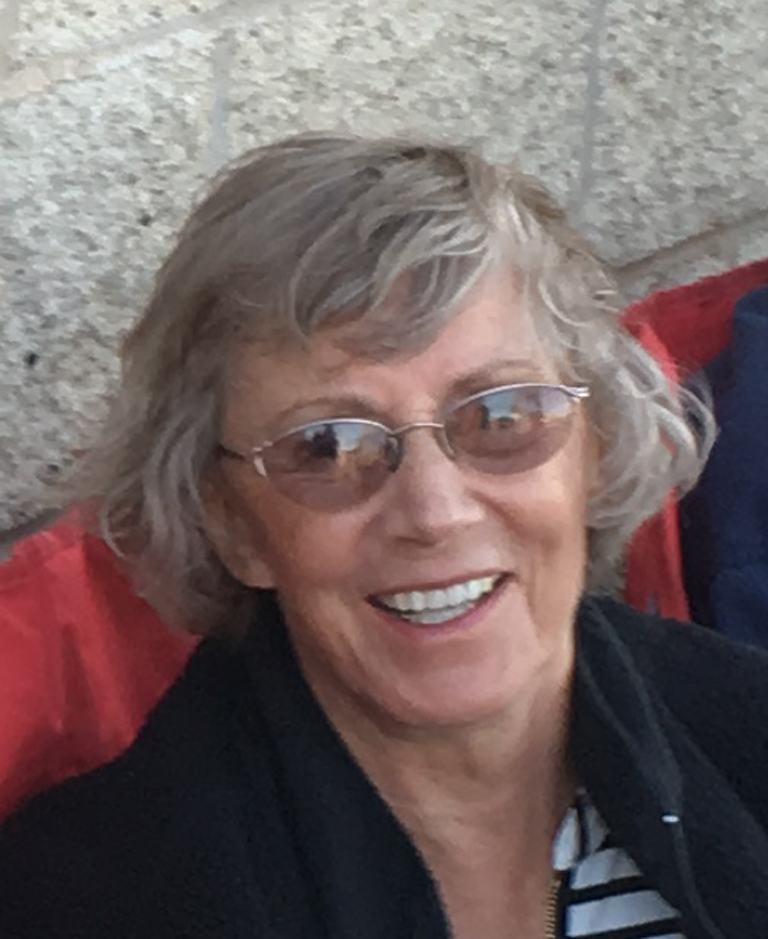 My Mom, Ursula Dembski, passed away around 11:30am on Sunday, July 15, 2018 at Comfort House, the hospice home in Pella, Iowa. She was 86. My Dad, William J. Dembski, preceded her in death by nine months (for my remembrance of his life, see here). The funeral is scheduled to take place at Oakwood Cemetery in Pella at 10:30am on Friday, July 20th (see Garden Chapel website for details).
As their only child and son, I'm saddened to lose both my parents in nine months, and doubly so in that less than a year ago I still hoped that both would move to Iowa from Arizona, live a few more years, and get to enjoy their only grand kids. My Dad didn't make it to Iowa. My Mom did in December 2017. But she was diagnosed with an advanced and aggressive lung cancer in February 2018, the oncologist giving her six months to live. He was off by a month.
Even though my Mom was officially diagnosed with lung cancer on February 5, 2018, it's clear in retrospect that she had it at least six months prior. She had had problems breathing and had three separate X-rays taken of her lungs while still in Arizona. For whatever reasons, the doctors thought it was fluid on the lung or something benign. Even here in Pella, the initial X-rays didn't prompt any urgency. But my Mom was getting weaker and weaker, having night sweats as well as pain at night on her side while trying to fall asleep.
I pressed my Mom to get to the bottom of this, but thought that she was dealing with some sort of infection. Finally, a CT scan was done, at which point the doctors suddenly started talking in terms of lesions and cancer. But by then it was too late. She was diagnosed with a mesothelioma, and the cancer was no longer confined to her lungs but had spread to her ribs. Dealing with increasing weakness and pain, she was a shut-in the last three months of her life. Fortunately, the neighbors in the apartment next to her were wonderful and did just about everything for her, making it possible for her to stay in her apartment until the last few days of her life.
Ursula Dembski (December 21, 1931 — July 15, 2018) was born Ursula Armbruster to Albert Carl Friedrich Wilhelm Armbruster (1893 — 1969) and Hildegard Armbruster (1904 — 1980). I don't recall if my maternal grandmother had a middle name, but my maternal grandfather had three and so disliked having so many that he refused to give my Mom a middle name. My Mom also had a brother four years older than her, Albert Carl Armbruster (yes, he did get one middle name), who received a doctorate in veterinary medicine, but left that field to become a professor of Arbeitswissenschaft (ergonomics) at the Technische Hochschule (Technical University) in Berlin. He died April 20, 2006.
My maternal grandparents were German. In 1924, after WWI and after the German hyperinflation of 1922–23, they emigrated to Shanghai, China. That's where my Mom was born. They resided in a German community and lived very well by the standards of this world, with a cook, a servant boy, and an amah (a woman who takes care of household chores and child care) on the premises, as well as a tailor who came in weekly.
If you've seen the Steven Spielberg film Empire of the Sun, starring Christian Bale and depicting a British family in Shanghai around that time, it will give you some idea of my Mom's early life. The British, French, and Germans all had communities in Shanghai. My Mom and uncle attended the Kaiser Wilhelm Schule in Shanghai. Many years later in the late 1980s I spoke to a Chinese Christian from Shanghai who had spent years in communist prisons for his faith — he remembered my Mom's school.
In Shanghai, my Mom's family watched the rise of Nazi Germany largely from a distance. They visited Germany for several months in 1936 (taking an ocean liner over the Indian Ocean and through the Suez Canal), with my grandparents attending the Berlin Olympics. My Mom remembers being in Tokyo in 1939 at a restaurant where guests were eagerly discussing the outbreak of WWII, which began when Germany invaded Poland, and then France and Britain declared war on Germany.
Mistakenly thinking that Germany would win WWII, my grandparents decided to move back to Germany in 1941, with my grandmother, my uncle, and my Mom taking what was perhaps the last Trans-Siberian Railway that June (my grandfather had preceded them to Germany). Within days of their arrival in Germany on that train, Hitler invaded Russia.
My grandparents lost all their possessions in WWI and again in WWII. But neither they nor their two children lost their lives, despite facing tremendous dangers. My Mom remembers one night when the Allies bombed Stuttgart and she and her mother could not get to the bunker in time. All the houses around them were razed but theirs was left standing.
At the end of WWII, Hitler was forcing the young and the old into military service. So my grandfather, who had fought in WWI, as well as my teenage uncle were both forced into service. Both were captured by the Russians and both got away (my grandfather by pretending to be sickly and eliciting the sympathy of a female Russian commandant, who simply sent him back home; my uncle by hiding in some farm machinery at night as he and fellow German soldiers were being walked to Russia).
At the end of WWII, my grandmother and Mom were both just outside Berlin. Somehow they escaped the atrocities of the Russian troops against German women and somehow both my grandfather and uncle, in getting away from the Russians, were able to find them and all be reunited.
With the end of the war, the Americans, British, French, and Russians divided Berlin into sectors. My grandfather, as a young man, had been sent to England by his father (who was a prosperous businessman). There my grandfather gained a high level of proficiency in the English language. As a consequence, the British were happy to hire him to assist in their occupation of Berlin. This meant my Mom's family had a place to live and food rations. It wasn't much, but it was enough to survive.
In 1948, Stalin decided to blockade Berlin, which resulted in the Berlin Airlift, with American, British, Canadian, and other planes landing and taking off non-stop to supply (West) Berlin with its necessities. The Berlin Airlift was so successful that Stalin called off the blockade the following year. My Mom lived through it all.
With the Marshall Plan and Germany getting back on its feet after WWII, my grandfather went to work for Siemens, the big German electric company. Because Germany had been divided into east (controlled by the communists) and west (a newfound ally of America), the administration for Siemens moved west to a university town about fifteen miles from Nuremberg, called Erlangen. There my grandparents and Mom moved in the early 1950s. Upon completing high school, my Mom studied to be a seamstress, becoming a master of that trade.
It's here that my Mom and Dad's lives intersected. As I explained in the remembrance of my Dad:
In 1957 he had the opportunity to go to Germany on a Fulbright Scholarship. He had planned to go in 1956, but his mother needed too much care just then. One of my Dad's friends told him, in applying for the Fulbright grant, not to apply to Heidelberg, because everyone wanted to go there, but to apply instead for the university in a town called Erlangen. My Dad's friend (Robert Corley, who later was a dean at the University of Illinois's Chicago campus) had been stationed there after the war. He thought my Dad would have a much better chance of getting the Fulbright if he put down Erlangen. He was right. And because of it he met my mother there in 1957, Ursula Armbruster, a seamstress living with her parents. Had he gone in 1956, he wouldn't have met her because she spent that year elsewhere.

I came along in 1960, my parents having moved to Chicago. My Dad during those years was teaching at the University of Illinois's Navy Pier Campus. His colleagues were encouraging him to get a PhD, but even with his two graduate degrees, getting a PhD here in the U.S. would have taken still another master's degree, so he decided instead to go back to the university in Erlangen where he had done his Fulbright scholarship. It was just quicker to get into research and finish a doctorate in Germany, at least for him. It's hard to believe, but my parents saved up $10,000, and in 1963, when my Dad was 40, moved to Germany for three and a half years, even buying a brand new VW Bug, while my Dad worked on his D.Sc. in biology. They lived on the $10,000 until early in 1967.
In 1967, we moved back to Chicago. Not long thereafter, a friend and colleague of my Dad from Germany encouraged my Mom to sell some artwork for him in the U.S. (drawings, prints, woodcuts by European artists). Soon enough, however, my Mom realized that she could sell paintings by European artists found in America back in Europe. She focused on 19th and early 20th century oil paintings by German, Dutch, French, and British artists. The business did well and allowed my Dad to retire from teaching in 1981 at age 58 (though over the coming years he helped my Mom in the business). This business prospered through the 1970s and 1980s and into the 1990s.
In 1969, my Mom had cancer of the uterus, which was discovered early and treated successfully with radium insertions and X-rays. Nonetheless, her cancer at that time caused the family quite a bit of stress. The doctor who diagnosed it gave my Mom to believe that she only had a short time to live. A specialist, however, determined that the cancer was contained and treatable. My Mom had two visits to Presbyterian St. Luke's Hospital in Chicago to deal with her cancer. In the second visit, she had a sense of Jesus' presence in the hospital room and came back a much calmer and happier person than I remembered her.
Nonetheless, in coming years, without any sort of grounding in a church or fellowship with believers or careful reading of Scripture, my Mom lost the sense of God's presence and peace that she had in that hospital room. Ten years later, however, a friend of hers named Tina Holland took her to a Women's Aglow meeting where she encountered Christ again. This time her faith took.
In the following months, she prayed for my Dad and me, urging us to become Christians. God using her efforts, my Dad and I both became Christians in 1979. This coming to Christ of my Mom, my Dad, and me in 1979 marked the decisive turning point in our lives. I wouldn't say we lived exemplary Christian lives since then, but consistent with John 6:68, we found what we were looking for in Christ and we stopped looking elsewhere for salvation.
In 1992 my parents moved to Green Valley, Arizona, a retirement community about 25 miles south of Tucson. They were one of several couples from Chicago, who were all friends, that moved there. Arizona marked more of a real retirement for my parents. They liked the winters there, but summers were a bit hot for their taste. As a consequence, they would spend summers in Germany, usually four months at a time.
The pull to visit Germany was a consistent theme for my parents. My Mom was from there and my Dad had a lot of friends and good memories from his student days there. Thus, as I was growing up in the 1970s, we would often spend summers there (my grandmother was still alive then and my Dad, as a teacher, had summers off). This pattern continued in one form or another until the very end of my parents' lives, when finally they were no longer able to visit Germany and Europe.
In fact, after making their primary residence in Arizona for a decade, they decided in 2002 to relocate to Germany, selling their home in Arizona and buying a condo just outside Erlangen, the university town where my parents had met. My Mom was 70 at the time and my Dad 79, but they were still going strong. Based in Germany, they would visit Arizona, renting a casita over the winters and also visiting us in Texas to be with their grand kids, my wife, and me (we had a doublewide on our property where they were able to stay as long as they liked).
After a decade of making Germany their primary residence, they decided to relocate back to Green Valley, Arizona as their primary residence in 2011, though they had been spending winters there all along. By this point they had downsized to a small one-bedroom house. But even so, they would still visit Germany over the following summers, even vacationing a few weeks on the Adriatic in Italy (whether flying or driving there).
It was only in 2016, when my Dad was turning 93, that his health prevented my parents from spending that summer in Germany. By early 2017, it seemed that his health was on a rebound and that my parents could see our daughter Chloe graduate from high school that May and then go on to Germany. It was at that point that my Dad's health took a nosedive and that my Mom most likely came down with her (undiagnosed) lung cancer. My parents were unable to attend our daughter's graduation, much less get to Germany that summer.
With my Dad's death on October 17, 2017, it still seemed that my Mom could have some good years living here in Pella. She loved Pella and so looked forward to enjoying the people and town. But the cancer, even before it was diagnosed, sapped her of energy. It was especially painful for me to see her body waste away the last months of her life.
Thankfully, as Christians, we live in hope of a new Heaven and Earth in which the tears and sorrow of this life are wiped away. I write this not as a trite repetition of Christian dogma but in firm conviction. My Mom was in a lot of pain and discomfort in her last months. She is now in a better place with her Lord and also with my Dad.
I close with some photos of my Mom. The photo that appears at the start of this remembrance is from June 2016 (when she was 84) and cropped from a group photo of my Mom and Dad (third and fourth from the left respectively) along with my in-laws (first and second on left) at a softball game of our daughter Chloe: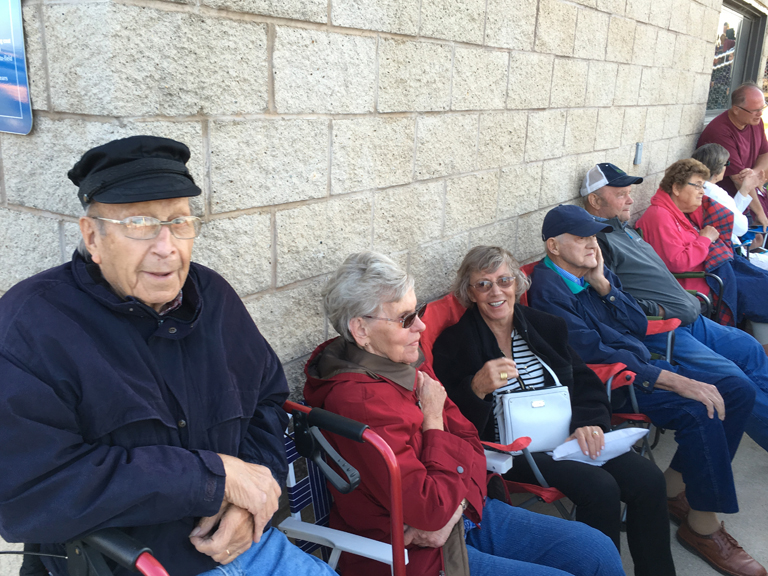 My parents loved their grandkids and enjoyed having a good time with them. Here are my Mom and Dad with Chloe and Will playing house when they were young: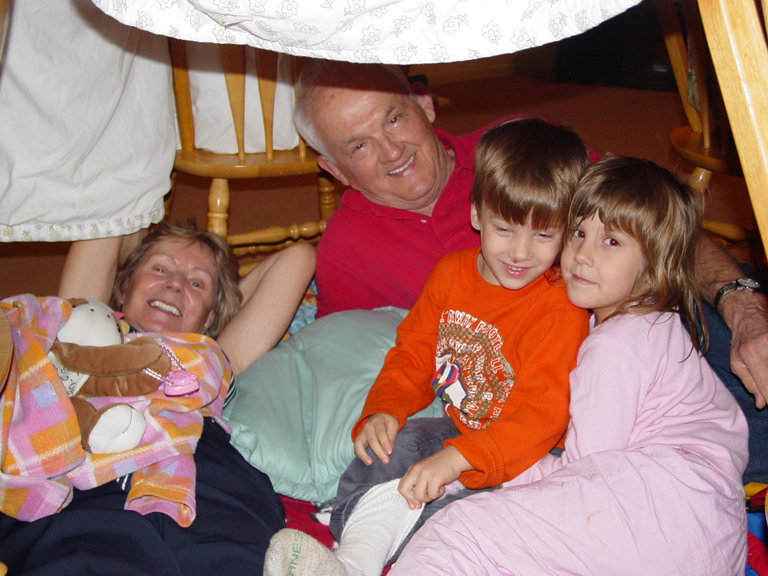 Here is a precious photo of my Mom holding our son John (Will's autistic twin brother) when he was little: